How to use BlockRecord
Using BlockRecord is easy.
---
How to Post
It is the most basic function of BlockRecord. The hash value of the posted data is recorded in the blockchain.
STEP.1
Press the + button at the bottom center of the screen, select a post type, and enter text.
STEP.2
Set the post range (Only me, Share to friends , Public).
STEP.3
Tap "Post" in the upper right of the screen to complete the posting.
---
How to share
Data posted by users can be shared with friends on BlockRecord. You can also share it as a post to a social network such as Twitter or Facebook.
STEP.1
Set the post publication range
Tap the "Share" button for the post on the timeline.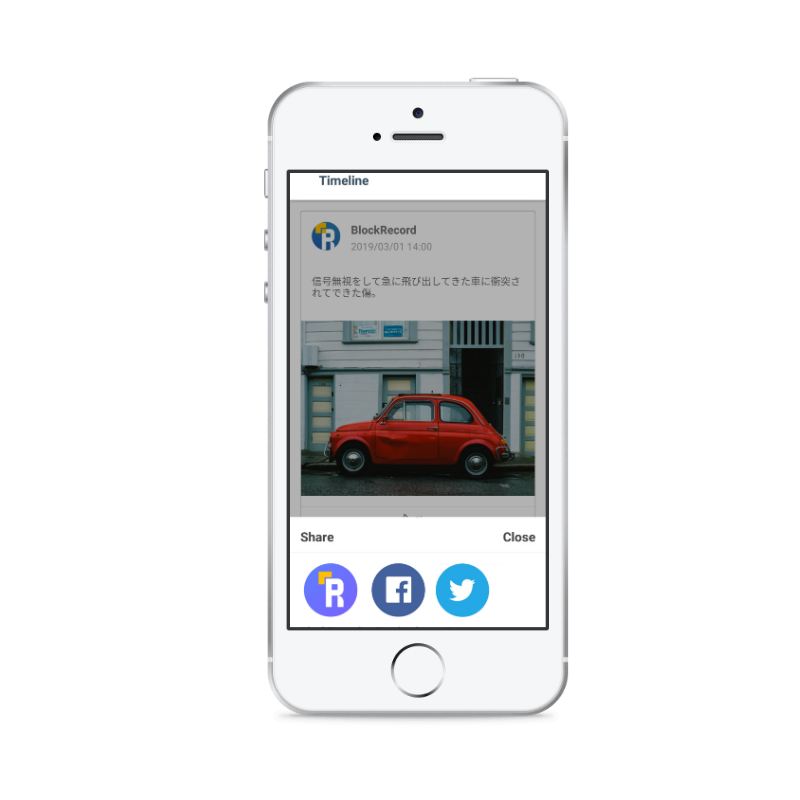 STEP.2
Share in BlockRecord
Select a friend to share and tap "Done" to complete sharing.
STEP.2
Share to Twitter
In case of Twitter, tap "Tweet" to complete sharing.
---
Certificate
The BlockRecord certificate proves when and by whom the data content posted was recorded.
STEP.1
Tap a post on the timeline.
STEP.2
STEP.3
The certificate screen is displayed.
Check the certificate sample
---
KYC(Know Your Customer)
Users who verify their identity with identification card will be a verified account. By obtaining a verifiedn account, you can more reliably prove who has recorded the data.The personal authentication function is provided only in Japan.
STEP.1
Prepare a photo ID (driver's license etc.) with a photo and take a picture.
STEP.2
Post the image to BlockRecord and share to Centaurus Works.
STEP.3
This mark will be displayed next to the username when authentication is complete.